Toper, among the world's largest coffee processing machine producers, installed Coffee processing plant in California Mule Creek Prison, Sacramento, USA.
Toper manager Ramazan Karakundakoğlu, who gives information on the subject, said, "We are a family company selling coffee processing facilities in 136 countries. We have international ETL and UL quality certificates required in America. We have been selling coffee roasting machines to the United States for many years."
The project is aimed at recruiting and rehabilitating prisoners in the American government's social responsibility Project.
Toper was specifically chosen by American authorities. It was a difficult project from planning, production and installation. The system consists of coffee roasting machines, roller mills, stone separators and full automation system.
A technical team consisting of 4-person from Turkey, lived with prison inmates for a 10 day period. They go to prison every morning and go out in the evening.
He founded the facility together with the prisoner's technical staff and prisoners.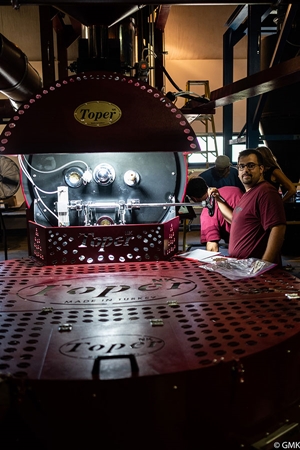 They were trained by a Turkish technical team. Trial production was done. Sample coffee was tested. They drank the coffee that have just have been produced. The plant will produce 4000 kg of coffee a day.
Gökhan Mithat Karakundakoğlu, who is in the Toper technical team and at the same time a SCA (Specialty Coffee Association) authorized trainer, indicates that installation and training work were very different experience. For the first time in his life he worked in a prison environment, Chief Project Officer Charlotte Reynolds reported that prison technical staff and prisoners are highly involved and polite. Together we were very beautiful. We worked very efficiently. We made coffee together and drank together. "We will invite the inmates to Turkey for holiday and traning when their punishments are over" said Gökhan Mithat Karakundakoğlu"
Ramazan KARAKUNDAKOĞLU
Toper Karakundakoğlu Değirmen Sanayi LTD.ŞTİ
General Manager